I'm preparing a talk for this year's Technoport Conference here in Trondheim. My title is Fabulous Failures in the session on Celebrating Failure. I'm wedged in between two people with a lot of experience in entrepreneuring - whilst I should provide the view from research. Well, my kind of research, at least - so I'm throwing in a bit of art. And of course - I need some good stories.
A fabulous failure is a failure to do what you originally thought, but where the result is better than anticipated. Central to my talk is a quote that I'm sure that many of you have seen or heard.
I saw it for the first time at an art exibition in Moss called Momentum. I was there with
Gitte Sætre
and
Tone Boska
- they were locals when I worked with regional development issues in Virtuous Circles outside Bergen. They both had their feet in the artist community. We were on a roundtrip to
get inspiration to how we could
get businesses in the community to collaborate with artists, inspired by suggestions that art is really at the center of innovation.
Whether the work we did there was a failure or success is dependent on the definition of those concepts- but one thing that came out of this trip was
a quote that has stayed with me since.
This was the poster heading the exhibition - named Try again. Fail again. Fail better: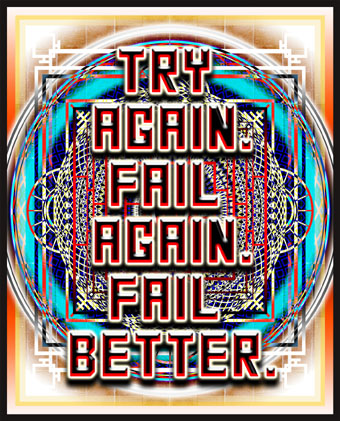 I loved the expression - both verbally and visually - and later I learnt two things:
1. The artist is Mark Titchner - and he was curating the exhibition with Anette Kierulf.
2. The quote is from Samuel Beckett. (No, not Steve Jobs this time, as someone suggested)
I'm going to leave Mark Titchner - I don't see how this poster is going to make a difference in my talk, I'm going to go with white text on a black background. But I am going to talk about Samuel Beckett and what he thought about failure.
The above quote is found in countless motivational posters - but I'll use just the text. Because it is quite interesting that these three imperative sentences should become motivational - because I think most people don't understand the profundity of the quote.
Now we know that Beckett was a deep thinker. He was not much of an academic - his career in lecturing fell short when he decided to fabricate the discussion material for his class. Smart solution, but not very accepted. Similar to quite a few entrepreneurial ventures - but this one failed to get recognition as a way to teach.
He always intended to be a writer, though. His most famous play is "Waiting for Godot" - in which I read in a review on his wikipedia page:
In a much-quoted article, the critic

Vivian Mercier

wrote that Beckett "has achieved a theoretical impossibility—a play in which nothing happens, that yet keeps audiences glued to their seats. What's more, since the second act is a subtly different reprise of the first, he has written a play in which nothing happens, twice."

http://en.wikipedia.org/wiki/Samuel_Beckett
In 1969 Beckett won the Nobel Prize. Most of us would agree that he had success - but Beckett didn't believe in the notion of success.
In a way, Beckett writes about despair and is known for his black humour, so it is in deed humourous - or exactly his point - that such a tiny quote should be used to be inspirational.
His pieces got shorter and shorter, and in the 80's he published three novellettas, of which "Worstward Ho" was one. Here, in one of the first passages is the quote embedded:
All of old. Nothing else ever. Ever tried. Ever failed. No matter. Try again. Fail again. Fail better.
He only believed that it was possible to fail better. Nothing is a complete success.
Since success is not possible, then one might think that it is possible to stop trying, giving up. But that is not an option either, we are compelled to carry on trying, even if we know it is futile. Others will use what we do and put their own meaning into whatever you let loose on the world. And that will not change - that is all of old.
To get you thinking about how this quote is used, I want to challenge you to think what the implication would be of failing better.
A very long portrait so you have time to think.
For many it is an expression of grit. You fail, fail again, and again, and at last you will succeed.
If Beckett were to write an implication line it would be - fail better. fail better. He doesn't though - he writes later in the piece:
Try again. Fail again. Better again. Or better worse. Fail worse again.
This I knew. But yesterday I read "Worstward Ho" once more, and I realized that he had been closer to what I think is the implication than what I thought. So for me too - it is all of old, I haven't been able to come up with anything new. Nothing that hasn't been tried communicated before
All of old. Nothing else ever. But never so failed. Worse failed. With care never worse failed.
Dim light source unknown. Know minimum. Know nothing no. Too much to hope. At most mere minimum. Meremost minimum.
Do you agree? He's said it right there.
On the other hand - his writing is not that accessible - so I think I might be needed to explain. Or if you got it - it's worth saying again.
Stop keeping those high ideals - instead get down to the minimum - and set your targets as low as possible. That's the prescription for failing better. If your anticipations are meeting very high ideals - chances are that you'll be failing by a long shot. But if you anticipate a mere minimum, chances are that you can fail better than anticipated. Hence - a small, but significant fabulous failure. Huzzah!
I've got my implication line ready. Can you guess what it is?
Fail again. Fail Better. Feel Better!